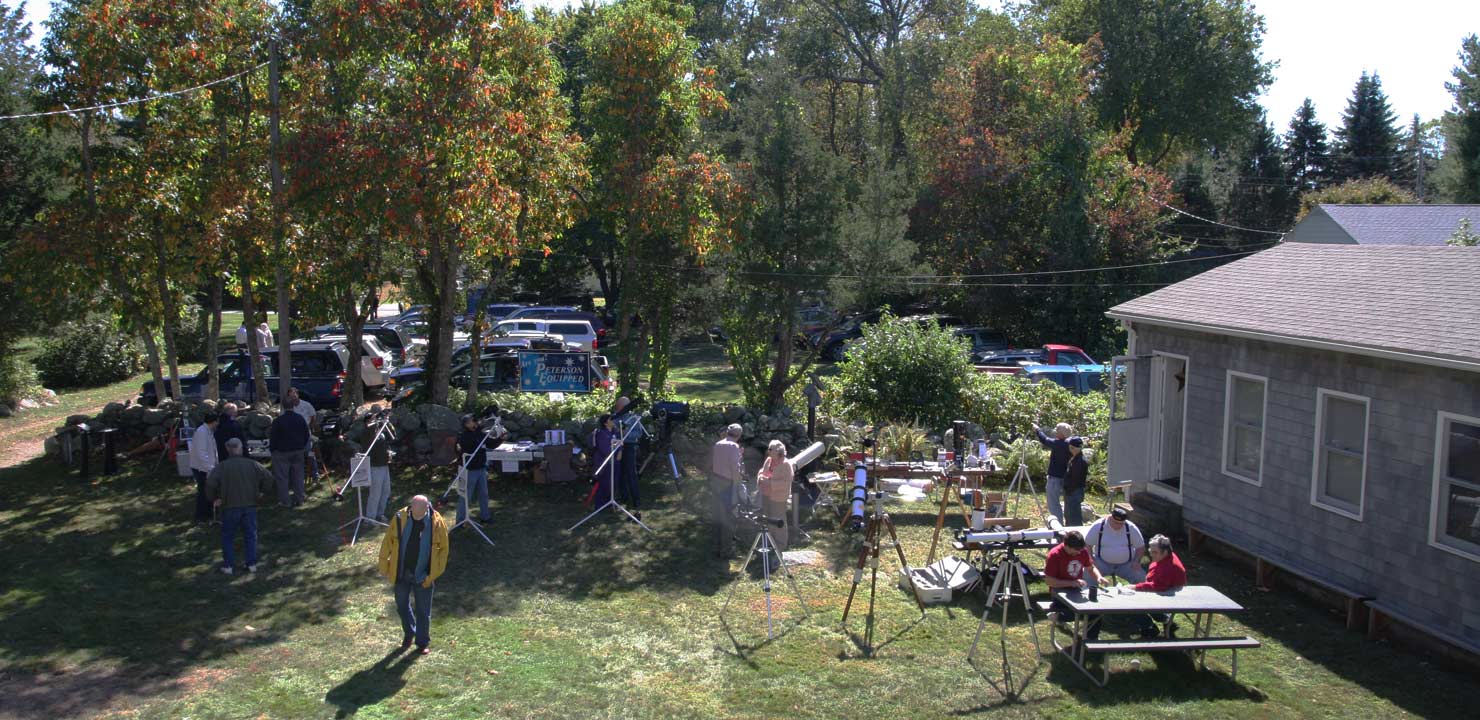 AstroAssembly
Please join us on Friday, September 28 & Saturday, September 29 as we commemorate six decades of AstroAssembly with a program devoted to "Citizen Science and Astronomy."
Plans for AstroAssembly 2012 (September 28 & 29th) are really coming together. The theme this year is "Citizen Science and Astronomy". Our program will feature several speakers.
We will be bringing back the Astrophoto Competition and the unique Astro Bake-off, in which participants present clever astronomy-related edible treats. The banquet on Saturday night promises to be another delicious meal and time to connect with old friends.
We also invite you to become part of the AstroAssembly team, helping in some way with the activities involved in this annual 2-day event. We are also looking for member donations to be included in our raffle and speakers for our Friday Night talks.
Contact Kathy Siok (kathys5@cox.net) for further information – to get a ticket, to volunteer in some way, or to donate an item.
DownloadAstroAssembly Registration
Friday Evening Program
Informal talks:
Conrad Cardano
Star Analyzer - Low Resolution Spectroscopy
Steve Hubbard
Bigger Really Can Be Better:A Visit to Mount Wilson
Tony Costanzo
Restoring an 1871 4" Clark Refractor
Saturday Morning Program
All day Saturday: H-alpha Solar observing, Swap Table, Vendor, Astro Raffle, Astro Bake-Off, Astrophotography contest.
Ed Turco, Skyscrapers, Inc.
+ bio
Ed Turco has been a very active member of Skyscrapers since 1961, holding most of the offices of the organization, conducting telescope making classes and giving many talks to this group and others. He has received many prestigious awards at Stellafane for his hand crafted telescopes, in optical and all other categories.
The Amateur Astronomer's Equipment in 1961- Early Citizen Science in Astronomy
Join Ed Turco, long-time Skyscrapers member and master telescope maker, to remember the 'good old days' of amateur astronomy. Ed will have his telescopes and all sorts of goodies to show how astronomy was done in the 60s, before the advent of electronic assistance.
Saturday Afternoon Program
Lunch at the Stardust Grille
Gerry Dyck, Skyscrapers, Inc. & AAVSO
The Variable Star Observations of Frank E. Seagrave
Gerry Dyck, Skyscrapers member and AAVSO observer since 1978, will present a summary of the contribution which our namesake Frank E. Seagrave made to the AAVSO International Database. His talk will also mention the variable star observations of Skyscrapers founder, Prof. Charles Smiley.
Dr. Carie Cardamone, Brown University
+ bio
Carie earned her B.A. at Wellesley College in Mathematics and Astronomy, while exploring a wide range of courses in the humanities and social sciences, including significant coursework in Economics. Continuing her study of Astronomy, she received an M.A. from Wesleyan University and her Ph.D. from Yale University. Her astrophysics research on the evolution of galaxies over the history of the Universe concentrates on the connection between the growth of a galaxy's central black hole and the growth of its stars. She is also actively involved in Citizen Science as a member of the Galaxy Zoo science team (www.galaxyzoo.org). During her dissertation work at Yale University, she was a teaching fellow at the Yale Graduate Teacher Center. Her interest in incorporating results from educational research into the classroom lead to a postdoctoral position at MIT in physics education research. While at MIT, Carie's education research program focused on statistical techniques of assessment and she worked on integrating technological resources into an introductory physics class, which she helped to reformat from traditional lectures to small group problem-solving sessions. Carie joined the Sheridan Center in 2011 as Associate Director (Life & Physical Sciences), where she assists in running the Teaching Certificate Programs (I & III) and in developing innovative and engaging professional development programs, many of which focus on effective use of technology in the classroom. She works individually with faculty in consultations and through the Teagle Grant program.
What is Citizen Science?
Citizen Scientists volunteer their time, helping scientists to advance scientific research by collecting & analyzing data, observing the natural world, solving puzzles, and testing natural phenomena. I will introduce the origin of the Zooniverse, one of the internet's most popular Citizen Science projects, and discuss many of the ways in which the public is contributing to scientific research today.
Dr. Meg Schwamb, Yale Center for Astronomy and Astrophysics
+ bio
Meg Schwamb is National Science Foundation (NSF) Astronomy & Astrophysics Postdoctoral Fellow at Yale University's Center for Astronomy and Astrophysics (YCAA). As part of the La Silla-QUEST KBO Survey, she is searching the southern skies for the largest and brightest members of the Kuiper belt and beyond, and studying the orbital and physical characteristics of these new discoveries. Meg is project scientist for Planet Hunters (http://www.planethunters.org) a citizen science project searching for the signatures of extrasolar planets in the public data obtained from NASA's Kepler mission. Using the results from Planet Hunters classifications she studies planet formation and evolution.
Searching for Exoplanets with 340,000 Eyes
Planet Hunters (http://www.planethunters.org), part of the Zooniverse (http://www.zooniverse.org) collection of citizen science projects, enlists the general public to visually identify the signatures of transiting extrasolar planets (exoplanets) via the World Wide Web. When a planet moves in front of its host star, or transits, it blocks a small portion of the star's light. Although the drop in starlight is small, it is detectable by NASA's Kepler spacecraft. A Jupiter sized planet will block 1% of the star's light for Sun-like stars, and the transit depth is 0.1% for Earth-sized planets around Sun-like stars. Kepler is monitoring ~160,000 stars nearly continuously for transiting exoplanets. The Kepler team has automated routines searching the light curves for transits, which have found an impressive number of exoplanet candidates. Currently over 2000 known planet candidates have been found by the Kepler team.

But the Kepler light curves are complex, with many exhibiting significant structure. It is difficult to characterize such variability and therefore an automated search algorithm looking for a periodic signal may miss a transit signal dominated by the natural variability of the star. The human brain is a superb pattern recognition device and with minimal training can often outperform the most sophisticated machine learning devices. The human eye is well suited to picking out most transits that may be missed by the automated search algorithms. It is unrealistic to expect a single individual or a small group of experts to review the entire Kepler dataset, but with over 170,000 volunteers examining the light curves on the Planet Hunters interface, we have the ability to visually inspect the entire public dataset for signatures of exoplanet transits. I will present the project and talk about the science highlights and discoveries made by the citizen scientists from Planet Hunters.
Dr. Carie Cardamone, Brown University
Green Peas: Discoveries of Citizen Scientists
I will introduce the Galaxy Zoo Citizen Science project and discuss some new discoveries being made through collaborations with Citizen Scientists. In particular, I will introduce the "Green Peas", a class of galaxies unknown until volunteers in the Galaxy Zoo project noted their peculiar bright green color and small size. These galaxies provide unique insights to astronomers into how stars (and galaxies) grew in the early universe.
Saturday Evening Program
To be held at North Scituate Community Center.
Reception at North Scituate Community Center
Buffet Dinner (pre-registration required)
Gerry Dyck
The Ancient Face of Night
Dr. Bethany Cobb Kung, George Washington University
+ bio
Dr. Bethany Cobb is an assistant professor of Honors and Physics at The George Washington University. She received her Ph.D. in astronomy in 2008 from Yale University for research on massive stellar explosions called gamma-ray bursts, which she also studied as a National Science Foundation Astronomy & Astrophysics Postdoctoral Fellow at the University of California, Berkeley. Her teaching currently focuses on physics and astronomy education for non-science majors. She also enjoys engaging in astronomy public outreach, including traditional public observing nights and other efforts such as a collaboration with a choreographer to teach students astronomy through dance.
Extreme Variables: Gamma-ray Bursts, Supernovae and Cataclysmic Variables
While there are many types of stars that change brightness, only the most extreme of these will experience many magnitudes of variation over short periods of time. Several of these extreme objects are phenomena related to dying or dead stars, including the three to be discussed in this talk: gamma-ray bursts, supernovae and cataclysmic variables. Gamma-ray bursts (GRBs) are the most powerful stellar explosions in the universe, each one likely signaling the formation of a new black hole in a distant galaxy. Supernovae mark the death of massive stars via core collapse, a process that in some cases also lead to a GRB. Cataclysmic variables (CVs) are binary star systems in which a dead star (a white dwarf or neutron star) accretes material from its living companion, resulting in outbursts of hydrogen fusion. Understanding these objects depends on observing and analyzing their light curves – their brightness over time. Because these objects experience great changes in brightness, they are ideal objects to engage citizen scientists. In fact, citizen scientists have already made significant contributions to these fields and will continue to do so in the era of "big data." Citizen scientists can easily become engaged in this science via publicly available data and event alerts and through initiatives such as the Zooniverse and the American Association of Variable Star Observers.