June 6: Monthly Meeting
Astronomical Motifs in South-East Asian Bronze Drums
Gerry Dyck
Astronomical Motifs in South-East Asian Bronze Drums
While you are out there casually stargazing from a dark sky location, you might see some other interesting objects. You'll see some familiar constellations, and of course there are a few meteors on any clear night. And you might see the Moon and a naked-eye planet or two. But every now and then some unknown object may traverse the sky. You might even see a brief, but bright flash.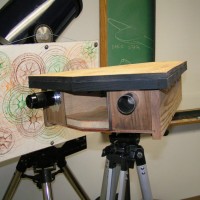 Skyscrapers June 2008 Meeting featured Gerry Dyck and his presentation "Astronomical Motifs in Southeast Asian Drums." Additionally, Nicholas Rodrigues of Printmakers demonstrated a new astrophoto printing service, and Tiverton High School student Nathan Pelletier gave a presentation about the Sun and demonstrated his solar spectrograph.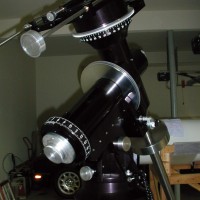 Al Hall recently completed his 16" Cassegrain telescope and its accompanying German equatorial mount. Al Hall and Dick Parker have collaborated on this project for 6 years and 5 months.
Help us complete our archives...