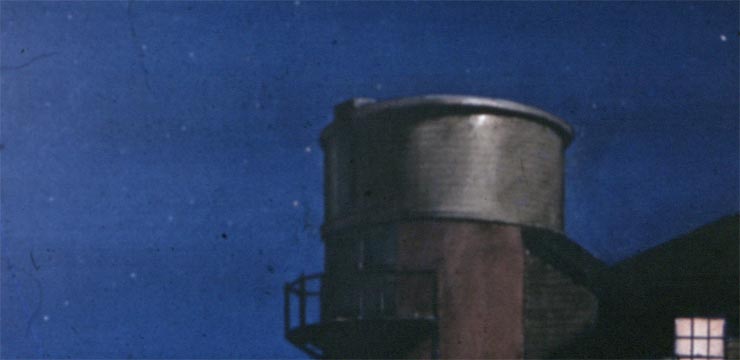 Public Open Night Report for July 14, 2012
I hadn't planned on attending the July 14 open night, but a co-worker of my wife Tina was having trouble using a small telescope and I offered to help her out. Besides, she also wanted her children to observe through our telescopes.
I arrived just after sunset to give this family a tour of our facilities. Another family had arrived early as well, so I provided them a tour of the museum, explaining all things Seagrave and Skyscrapers. Several other folks joined us, including a family who had visited us the week before. They were meeting another family at Seagrave because they had had such a great time during their first visit and wanted to share that experience with their friends.
It was still evening twilight when we went upstairs into the dome. The first glimpse of our 8-inch Alvan Clark refractor can take your breath away as you near the top of the stairs. The sight never fails to elicit oohs and aahs from our visitors.
I provided them a brief history of the telescope and the dome, including the cannonball problem prior to 1976. Soon it was dark enough to focus the telescope on Saturn. Unless the atmosphere is really turbulent, Saturn very rarely disappoints. One young boy, whom I had enlisted to turn the dome, had first dibs on viewing this beautiful ringed world. I didn't get an "awesome," but he and those who followed were impressed with the image
at 107x. The air was steady so we cranked up the power to 148. The young girl Jaclyn, who had visited the week before, was like an old pro now at observing. She seems really interested. Who knows? She might become a junior member some day.
As usual we slewed over to Albireo and had everyone view this beautiful and colorful double star. After everyone had gotten their view I had them reveal what colors they saw.
Some got it correct (blue and gold). Others saw green for the blue star. We slewed back to Saturn when another family arrived, then we lost it behind our tree-line. Everyone also took advantage of the 12-inch Meade being operated by Jim Brenek and the 16-inch Meade operated by Conrad Cardano.
Throughout the evening Tina waited for her co-worker to arrive. She never did. Since no additional visitors showed up after 10:10 pm, I decided to close down the dome. If anyone else did visit after that they could still observe with either of the Meade scopes.
All in all I'd say we had a total of 14 folks enjoy the heavens with the help of our volunteer telescope operators. And most importantly, everyone had a good time.