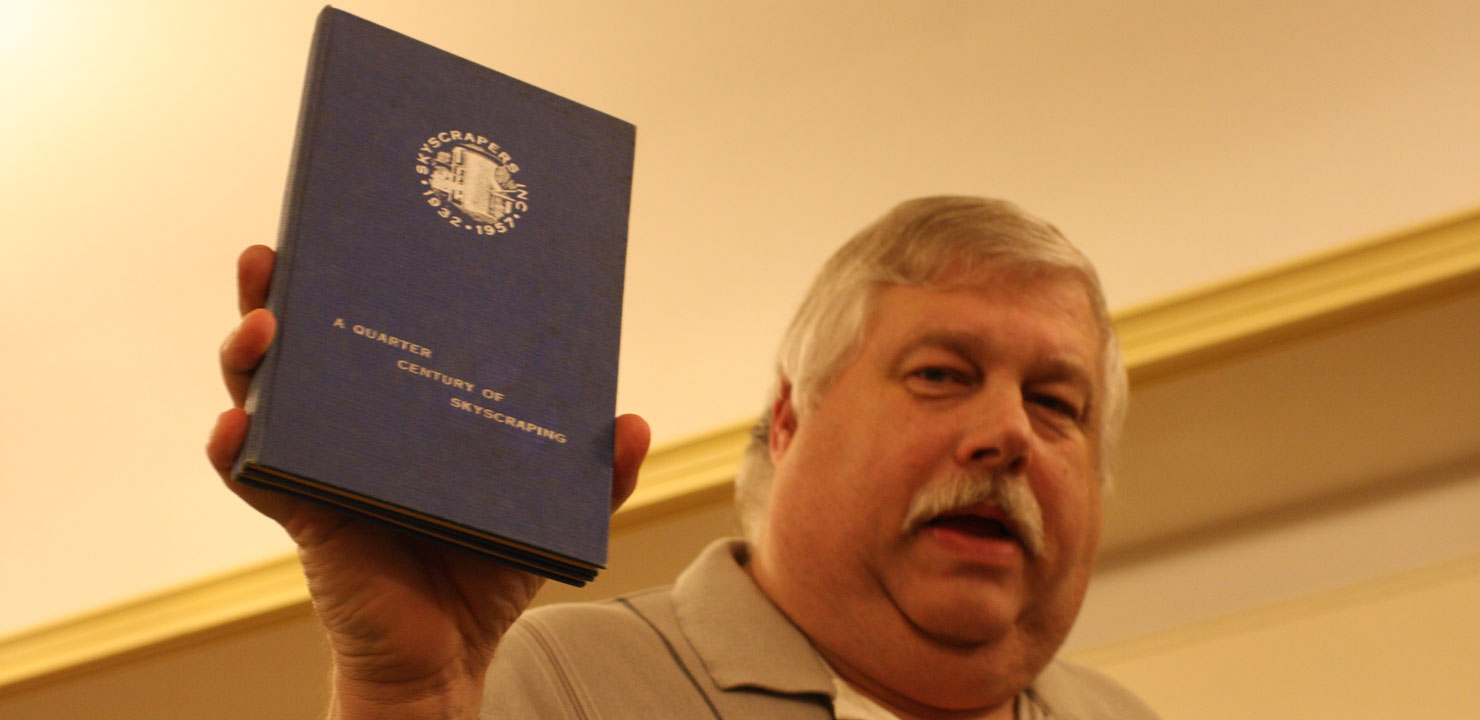 A Quarter Century of Skyscraping: 1932-1957
To commemorate the 25th anniversary (1932-1957) of Skyscrapers, Inc., the society decided to publish a private book highlighting the history and achievements of the organizations first 25 years. Though I currently have no information to support this assumption, many of us believe only 100 copies of this book were ever published.
I became a member of Skyscrapers in January 1975, and much of my initial knowledge of our history often presented itself at a monthly meeting when then historian Bill Gucfa would often relate a single tidbit during his historical moments report. I soon learned of the "25 Year Book" and was able to make a zerox copy of Bill's volume. It was then that I fell in love with the rich history of our society.
For many years I searched through antiquarian books stores in the hope that I would happen upon a copy of my own. It was more than a 15 year search before I turned up a copy in a Wells, Maine book store. And another 5 to 7 years would pass before I located another one from a book dealer out in Wisconsin. Recently, Dan Lorraine located another copy and donated it to the Skyscrapers library. In all, I guesstimate there are probably 20 or less that we can currently account for.
I wholeheartedly recommend that anyone seriously interested in Skyscrapers history borrow that volume from our library. There is nothing like reading this rare little gem in its original form.
However, with Skyscrapers 75th anniversary approaching on May 5, 2007, there is little time for even a small percentage of our members to read this single volume. Webmaster and newsletter editor Jim Hendrickson thought it would be nice to re-issue "A Quarter Century of Skyscraping" on our web site for all to read and enjoy.
Jim has made some minor changes to the text for clarification. He has also added some images which were not in the original book. I encourage all Skyscrapers members to take a little free time and review the first 25 years of our organization. I think you will find it fascinating and informative. It will also prepare you for our upcoming 75 anniversary celebration. Our rich history didn't stop in 1957, though it almost did during the mid to late 60's. Within six months Skyscrapers will be publishing, in one form or another, a summary of our entire 75 years compiled by yours truly. Whether you're an old timer or a newbie to the Skyscrapers organization, you'll be amazed at what this great society has accomplished over the decades. I hope I will be privileged to be around as we celebrate our 100th anniversary in 2032. Will I be history or still the historian?
David A. Huestis, President/Historian