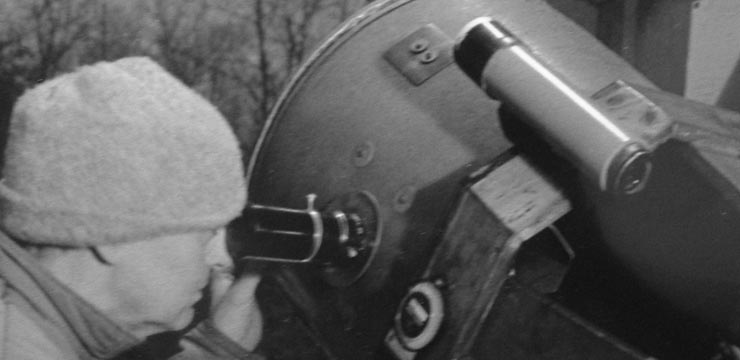 Reflections on Three Decades of Variable Star Observing
Sometimes I feel that my thirty years of variable star observing have been about as variable as the variable stars themselves. Next month I will send in my 300th consecutive monthly report to the AAVSO. Today I look back at highlights, lowlights, trends and changes in my astronomical endeavors.

I made my first variable star estimate in the summer of 1978. It was under the tutelage of Greg Stone of Westport, Massachusetts. He had set up his 6-inch Criterion reflector behind his house on the banks of the Westport River. After some splendid planetary views he asked me if I had every seen a variable star. His response to my negative reply was to show me Z UMa. He showed me the chart, explained the process, then said we should make independent estimates before comparing results. I was quite pleased that my 9.2 matched his 9.2 exactly. This prompted me to make inquiries at the AAVSO and acquire a beginner's packet. Two of my vivid recollections of that visit to 187 Concord were seeing Katherine Hazen sitting at a desk opening the mail and checking scores of hand-written observation reports. At another desk sat Marguerite plotting light curves with pencil and ruler. Indeed, times have changed.

The years from 1978 to 1982 were spent in learning the technique of estimating variables and slowly expanding the number of stars I could find. I began with Miras like S and T Gem, U CMi and U Her which I monitored with my newly-built 10-inch reflector. My cautious one-page hand-written reports landed on Katherine's desk.

1983 was a momentous year for me. It was then I built my 17.5-inch Dobsonian using optics I had gotten in trade for a ready-to-use 8-inch Criterion and a 90mm Celestron refractor. One summer later my Stellafane-awarded "monsterscope" was happily housed in a new Merry-Go-Round Observatory and I felt ready for more ambitious endeavors. I recall standing in the observatory one August evening in 1984 and saying to myself that this splendid facility was worthy of some focus greater than casual recreational astronomy. That focus became the passion for observing cataclysmic variables, the first of which (U Gem) I had seen in outburst the previous winter.

From 1984 to 1992 were my most active observing years when my energy and enthusiasm seemed boundless. I observed on every clear night. I got up for frequent pre-dawn sessions. I cursed the clouds. I cursed the moon. I got the blues when some non-astronomical event required my attention on a clear night. My list of targets expanded to about 100 stars, about 75 of which I could keep up with pm/am sessions. Another impetus came in 1986 when I got my first computer and taught myself enough Basic to write a customized program for entering, sorting, graphing and reporting my data. For a dozen years I mailed in my monthly computer-printed reports which had to be re-entered into the computer at HQ. The longest of these contained 1350 observations made during a fabulous February which brought 26 consecutive clear nights. Of course, I was proud of my output, but I was always second or third in the yearly totals. I joked with Helga that because of Danny I would always be an Underbeek. And so I have been. One number that I am very proud of is 16 – the greatest number of CV outbursts detected in a single night.

The years from 1992 to the present have been marked by a slow but steady decline in my observing output. I attribute this in part to my decreasing energy with advancing age, but largely to the discouragement caused by the loss of dark skies in our small town. I recall seeing 15.6 stars a decade ago - now I strain to see 14.0 on the best of nights. I recall standing in awe of the majesty of the night - now I look up with disgust and tears for the glory that has passed from my sight. What Helga and I could once enjoy in our own backyard we must now travel to New Hampshire or New Mexico to see.

There have been milestones, of course, which I cherish: composing a musical suite for the 75th Anniversary of the AAVSO and later seeing it published, making my 100,000th estimate while on Mt. Wilson, being chosen by Director Janet Mattei to give a talk on visual observing at the Toronto meeting, pausing for a moment of silence before I made my 132,124th estimate, cooperating in many terrestrial and space-based observing campaigns, taking my telescope to many dark and wonderful astronomy places, and receiving my certificate last December for 150,000 observations. And perhaps it was a minor highlight for the HQ staff when in the year 1994 I tweaked my Basic program to format my observations for immediate electronic entry in the AAVSO database.

It is sad but true to say that since 2004 I have been known to look forward to a cloudy night when I can avoid the sorrowful effort of looking for my old celestial friends through the polluted murk of southeastern Massachusetts skies. This sorrow has been recently heightened by the loss of my dear devoted observing companion. For twelve years Smudgie would jump up and rush to the back door at the sound of my words "let's go get some Vs." He had his own cushion near the telescope where he would faithfully keep watch with me. When his eyesight and general strength failed I carried him out for his last few sessions. Now he is buried just behind the observatory. I wish that his name were included on award certificates. It is with a heavy heart that I press on, but I intend to contribute to the AAVSO database for as long as I am able. Oh yes, one more number fills me with awe. It is the number 512 – the number of consecutive months that Leslie Peltier sent in his data reports.